When the Lanzhou International Marathon was in full swing in 2013, the reporter received another news. After the Lanzhou Marathon and the Million Forest Project reached a charity run, the 3A environmentally friendly paint, which is known as the "China's first brand of environmentally friendly paint", has officially launched "Charity". Run the Graffiti Show to collect contests, invite global kids to graffiti and protect the environment, and at the same time start recruiting charity running 3A cheering group online.

It is understood that at the end of 2009, 3A environmental protection paint became the love partner of the climate organization "Million Forest" project, and began donating 300,000 seabuckthorn trees to Dingxi, Gansu, and then started "1 barrel paint 1 tree: love to achieve dream forest" The terminal activity, as of the end of 2012, this forest of dreams has begun to take shape.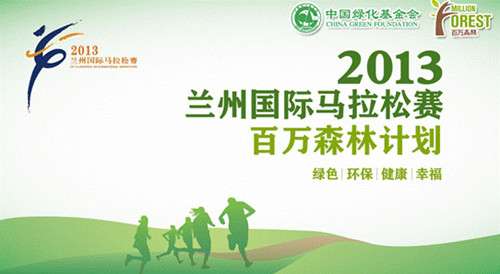 As an environmentally-conscious company, 3A environmentally friendly paint has not stopped in the donation of seabuckthorn forest. Since the beginning of 2013, it has launched a package of plans for ecological poverty alleviation and desertification control. The "Green Seabuckthorn Action" in the Lanzhou Marathon Before the registration, it has been launched to collect green endorsement groups for the whole world, start a new green journey, endorse the forest of dreams, and endorse China's environmental protection.

At the same time as the release of the green seabuckthorn action, at the end of March, "Million Forest" and the Lanzhou Marathon reached a strategic cooperation. The "Million Forest Project" officially became the only cooperative public welfare brand of this marathon, and the competition and ecological protection were combined in China.

In this context, 3A eco-friendly paint began to contact the million forest project parties, organized to participate in the "charity run", and carried out environmental publicity on the spot. What is different is that the 3A eco-friendly paint will not be an advertisement in the marathon, but the excellent environmental graffiti works selected this time.

According to the charity run graffiti show, the whole event is still based on environmental protection. It collects graffiti works for children aged 3-12 in the country, and can participate in the competition online and offline. Among them, the Lanzhou International Marathon will be held in mid-June. The show is displayed for the children to imitate.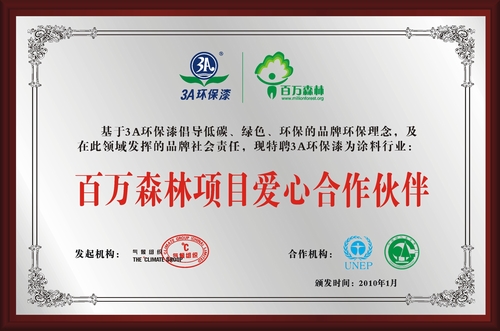 It is noteworthy that the donation of charity donations for the Lanzhou Marathon will be used for the "Million Forests" project to build an ecologically thrifty seabuckthorn forest in the Dingxi area of ​​Gansu. The organizing committee called on the marathon participants to join the Marathon Million Forest and become a charity runner, delivering positive energy for environmental protection and health.

According to the data, the Lanzhou International Marathon is running in Lanzhou, the capital of Gansu Province, every summer. It has been successfully held for two times. The participants are covered by the world: the first competition of 18,750 people, the second competition of 32,685 people, the number of participants is expected to exceed 4 Ten thousand people. This is the only marathon race in China that runs around the Yellow River. It is the only full-marriage marathon in the country and the only sporting event in the northwest that is broadcast live on CCTV.

Since the launch of the "Million Forests" program of the China Green Foundation, in 2009, through the public welfare concept of "5 dollars and one tree", the company raised funds from the society and planted seabuckthorn trees in the Dingxi area of ​​Gansu Province to improve the local ecology. The environment increases the income of farmers.

The reporter observed that among all the love partners of "Million Forest", the frequency of environmental protection activities of 3A environmental protection paint has always topped the list. The national terminal activity of "1 barrel of paint 1 tree: love to achieve dream forest" started in 2010 has continued. In the middle of 2012, 3A environmental protection paint "0 yuan spike, northwest ecological parent-child tour" attracted millions of people to participate; at the China Finance Summit, 3A environmental protection paint was honored as "2012 China Green Model of the Year".

As the first brand of environmentally friendly coatings in China, 3A environmentally friendly paints have always adhered to the highest standards of environmental protection principles. We have cooperated with DuPont for many years. The whole line of products has passed the European standard test, especially the excellent and durable net II generation, love baby, silver ion, etc. A star product in the environmentally friendly coatings market.

We could make different size of Color Packaging Box and Color Packaging Box base on your design.we aer the China Hang Tag,Printing Label,Cardboard Boxes,Paper Bags Manufacturer and Supplier.

Color Packaging Box

Hang Tag,Printing Label,Cardboard Boxes,Paper Bags Manufacturer and Supplier.

Xing Hua Printing Factory , https://www.xinghuaprint.com
October 20, 2020