Everyone loves toys. Some toys have no age limit, not only children love to play, but adults also love to play. For example, a programmable robot toy FDL-1 for product crowdfunding on Kickstarter. According to its developers, this is a "high-power, fully automatic, web-enabled fully automatic foam darts launcher for 3D printing ."

It is understood that in addition to electronic components, the other components of the FDL-1 are completely 3D printed. Its 3D printable parts are less than 6 inches (15 cm) in size, so they can be printed on most consumer-grade 3D printers without the need for support. And users can choose the color of their favorite wire.
According to Jesse Kovarovics, the developer and designer of the product, it took him a few years to develop FDL 1. It is designed for people who like to build or drum up things.

"On the surface, FDL 1 is like a typical bubble dart gun. So why don't consumers go to the store and spend less than $100 to buy one? The answer is that it's not just a toy, it's still a robot Kit." Kovarovics said on the crowdfunding page: "It's useful not only for playing like a toy, but also for learning about robots, simple mechanics, electronics, programming, the Internet and 3D printing. knowledge."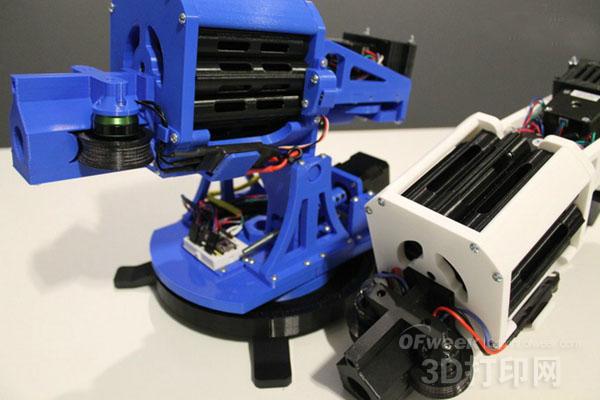 The FDL-1 is essentially a robot, so it is controlled by a programmable Particle Photon microchip. Therefore, the user can adjust it according to his or her own intent, it can execute pre-programmed commands and repeat actions, and can aim at a given target.

At the same time, FDL-1 is also known as the fastest foaming dart gun on the market. The speed of its flywheel motor can be adjusted at any time, so you can lower or increase the speed of the darts it shoots. And because it's fully automatic, you can shoot a dozen Nerf Mega bullets in just a few seconds with just one trigger.

Even more interesting is that users can also use it as a turret to play, you just need to fix it to a plane or a corner (such as the wall of the room). With its built-in Wi-Fi, users can control the turret form of the FDL-1 from anywhere on a mobile phone, tablet or any computer that supports web applications. When used as a dart gun, Wi-Fi is disabled and the battery installed in the gun allows it to operate independently.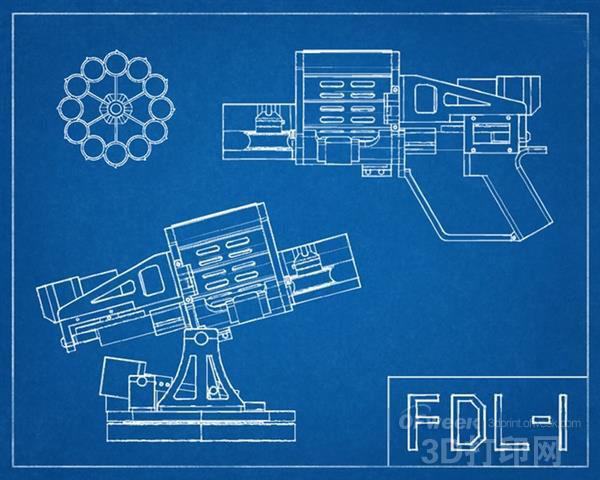 In addition, FDL-1 is open source, Kovarovics is preparing a FDL-1 website, which will release all design files, drawings and instructions of FDL-1 for free. He hopes that this open source approach will inspire others to build their own robotic devices. With the documentation provided by Kovarovics, you can print all the parts yourself, and the schematic provides all the details of the electronics and hardware you need. These are all provided under the Creative Commons Attribution ShareAlike license, which means anyone can design, modify, create and even sell their own version of FDL-1, as long as the original author is signed For the original copyright, and issue the same license.

The guaranteed price starts at 1 and on the website, shouts out to the fully assembled FDL 1 between the turret and the shockwave form that can be converted to $550+. The layers, printed with cheaper options and built between their own FDL 1 optional color materials are given to the supporters. With a larger investment, you can pre-print components to be assembled by yourself.

Kovarovics targets all reward layers and gift layers for September shipments. In the meantime, he will make his final design modifications, documents and drawings released and released on the website. For more information on this 3D printed toy, please go to its crowdfunding page.

Party products are generally used in party occasions, our company's party products are mainly placemats and Gift Bags.

Gift bag is a kind of packaging goods, it used to package gift bag. A beautiful gift bag can have a good effect on the gifts.Our company gift bag material is usually plastic with colorful PP material , support patterns and LOGO customization.Gift bags can be used many times in a cycle. Nowday more and more people using gift bags everywhere.Gift bags with custom designs and slogans also have a promotional functions.

The table placemat is a kind of thing that can protect, decorate table , it makes of PP material.Placemat has stronger frictional force to prevent glass, porcelain cup to slide, it can also protect desktop not to suffer very hot bad.The placemat can be used in various occasions, such as home ,hotel,restaurant,wedding party place and so on .

Party Products,Party Decorations,Party Bags,Party Plates

shaoxing chaofeng stationery manufacturing CO.,LTD. , https://www.chaofengstationery.com
November 20, 2021